Development, Marketing, Customer Success—we all work together in our headquarters in the center of Brno. We have a boss who can still write code; managers who have grown into their roles; two products we continue to innovate. And offices Google could envy. We have earned all that.
200+

employees

4

offices worldwide

500+

partners

30,000+

customers

100+

children born

3,000+

trees planted
The brains behind Kentico? Petr Palas!
!
Like boss like business. At Kentico, that holds true.
Our CEO explains who we are and who we want to be.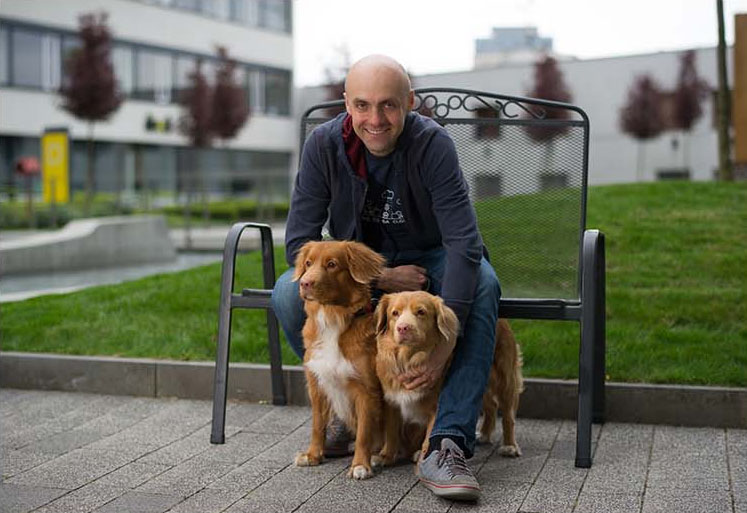 We are a marathon runner, not a sprinter. We don't focus on high revenues only. Instead, we concentrate long-term on the one thing we find meaningful and aim to excel at—content management.
We have eyes on the target. We resist random opportunities to extend our portfolio. Instead, we keep enhancing the core of our business.
We innovate instead of imitating. We always aim to be several steps ahead and offer more.
We help millions of users. Instead of targeting just a few enterprise customers, our products serve everyone.
We are a compact, flexible company. And we purposefully keep it that way. It's not our goal to ever become a rigid corporate.
Read Petr's article
We have come a long way
.
Since 2014, we have helped customers manage their content easily and effectively. At the same time, we keep fine-tuning our offices, benefits, and the way we work. Why? Because we want everyone to feel great at work!
2023
2020-21

We thrive—despite the pandemics

We improve the company structure by creating two product divisions—Kontent and Xperience—with their own respective executive teams. However, we are still one company that shares values, several departments, and an executive board.

Lots of us get married and start families. In fact, the number of babies born to our colleagues reach 100 in 2020. And in 2021, 26 more are brought to the world.

We now work in a hybrid mode. Each of us has our own desk in the office, but we also work from home—each team to their own.

We adapt our benefits to the current situation and throw in individual ad-hoc help to those colleagues who need it.

2019

Kentico celebrates its 15th birthday!

2016-18

We keep growing—in a healthy way

We snatch the "Healthy Office" award in 2016!

We start practicing yoga in the office; there is always fruit and veg in the kitchenettes and even little something for those with a sweet tooth.

We give up plastic bottles. Instead of bottled water, we now enjoy organic squash and juice produced by local farmers.

We add 800 sqm of new office space in the Titanium building—to have more room for work, meetings, team lunches, and foosball.

2010-15

We set up new offices, worldwide

There are 67 of us in Brno, so our original space doesn't suffice anymore. In 2010, we move to a brand-new space. By 2013, there are 100 of us working here.

In 2011, we open a new office in Britain, followed by Australia in 2012, and Benelux three years later.

2009

We start planting trees for bugs

We come up with a way to turn each error into something positive—for each bug customers discover in our code, plant a tree. Twice every year from now on. Today, over 3,000 produce oxygen in and about Brno!

2004

Kentico's foundation stone is laid

Do you know that Kentico has evolved from Petr Palas' bachelor thesis? We keep his floppy disk with the original code of our initial CMS for good luck.
Do you want to know more? How did our products evolve, what international recognitions we've gained, and more can be found on www.kentico.com.
Giving back goes without saying
.
To one another, to our customers, to the community. We are happy to be doing well and thus be able to share what we have. Every little helps. Anyone can come up with a new idea.
We help regularly
.
Those in need, and organizations who lend a helping hand to others. Here's just a taste of what we do.