Every week, each employee in our Kentico Kontent division receives an internal-only newsletter (we call it a weekly update) that summarizes the recent news across the organization. Through this channel, we can share major updates from each department since the last week and update everyone on the current business results. Let's look at what's inside of one of these newsletters.
In the past quarter, we always kicked the newsletter with a section called Term of the week. In this part, we picked one of the business terms or abbreviations we quite often toss in our day-to-day conversations and presentations, but might not be familiar to everyone (which was the feedback that started the whole section) and explained them in more detail. What does the abbreviation mean? Does it represent some key metric? Why is the term important for us? All these questions were answered in this section and after few weeks we could even create a glossary out of them.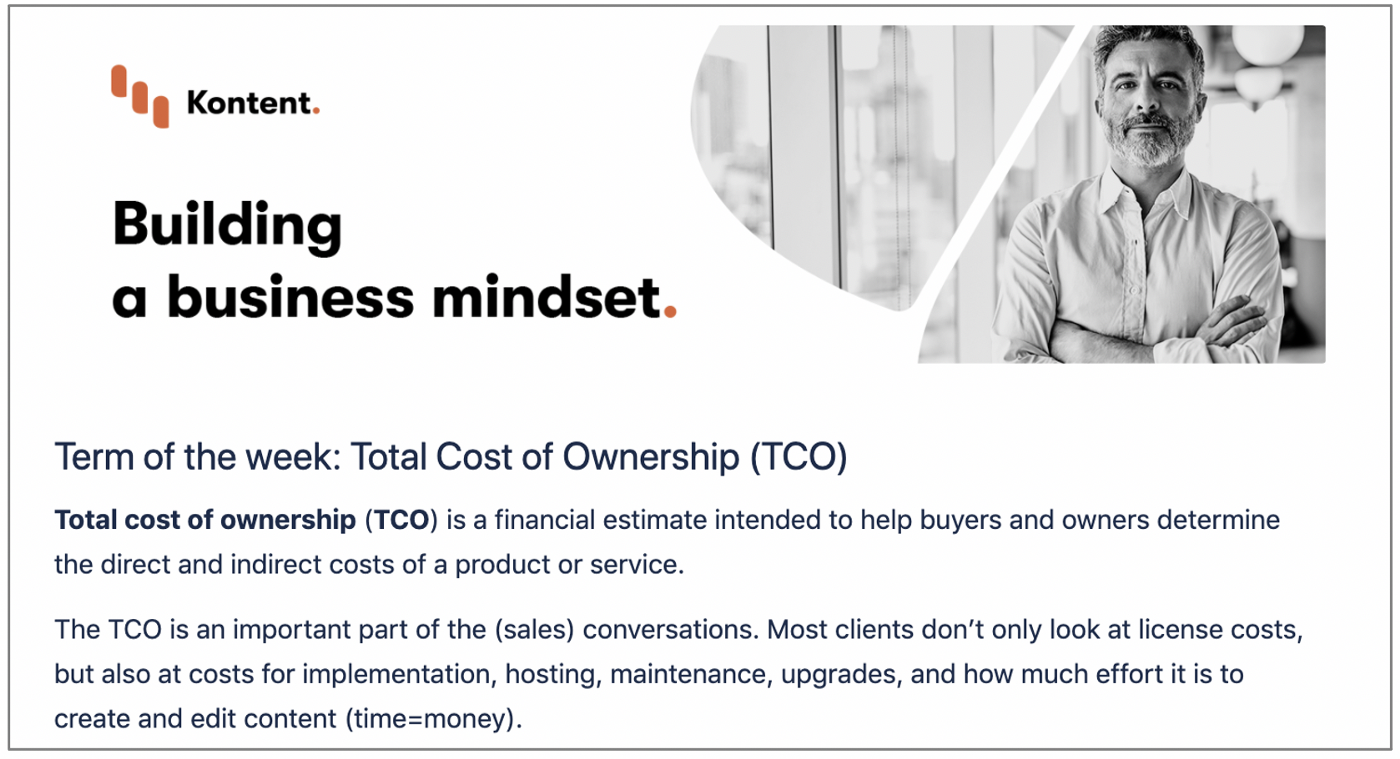 An example of the Term of the week
And let's be honest, especially in the SaaS world it can be quite overwhelming for people to swim in the sea full of abbreviations such as MRR, ARR, ACV, ICP, LTV, TCO, SLA, MSA, LVR (I could go on and on), so a little bit of explanation/reminder never hurts.
Right after the term of the week, we follow up with sections of individual departments — sales, marketing, product development, and customer success. Every Tuesday, during the quick daily meetup of the executive team, we sync on the content, and then it's up to the department head (or people they nominate from their department) to fill in their part.
The sales department part is pretty standard every week and covers one of the new customers and their business use case. This way our employees can read some background information about the companies choosing our product, learn more about how they plan to use it, and what plan with what metrics they decided to use for their project.
In the following marketing department part, we mention major releases that are either coming this week or we discuss the results of the concluded marketing activities. Here our employees can read about new ebooks we've produced, what case studies we've published, or what events/conferences we're preparing. They can also read about major milestones we reached or whether we were featured in any of the major analyst reports.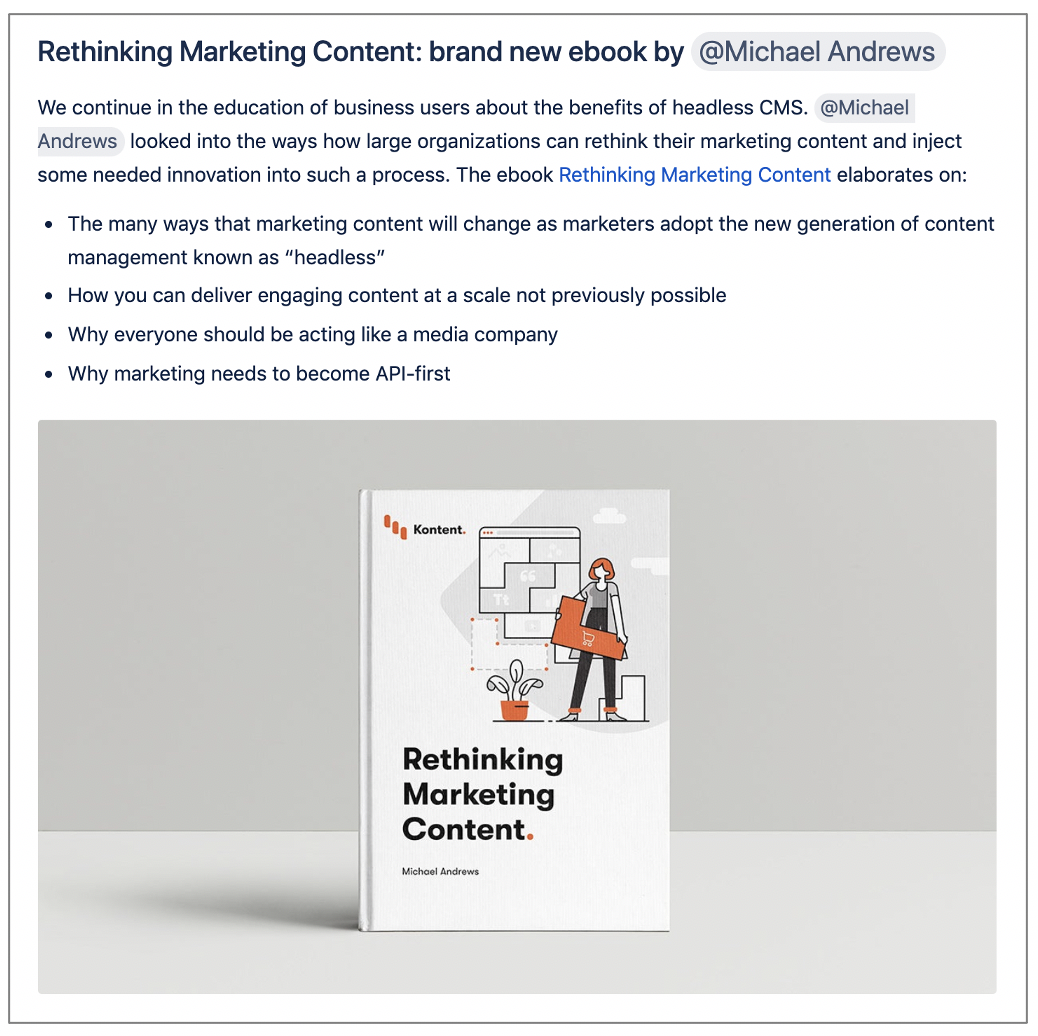 An example of new ebook announcemen
Then we follow up with Product Development updates. In this part, we share updates about the upcoming release (we release new functionality every other week), updates to the product roadmap, updates about the status of major development projects, or insights about the market situation and competitive intelligence. Anything related to the product and its development (that to be honest can be in a lot of companies perceived as a black box) is a great candidate for this part. One of my favorite things to do in the product development section is to highlight small product usability improvements or small features that could otherwise fly under the radar.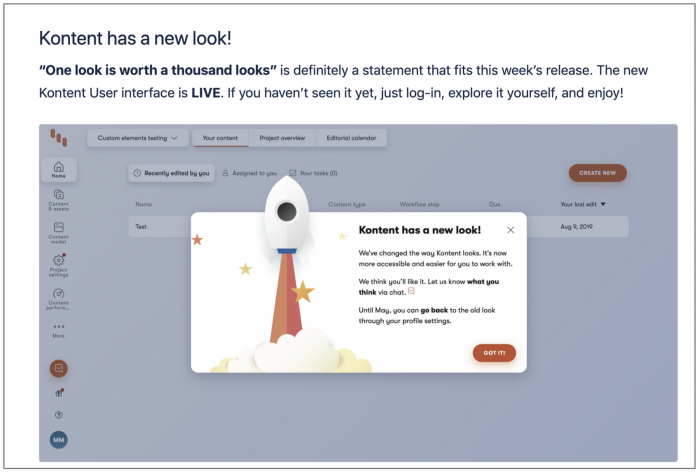 An example of a newly released functionality announcement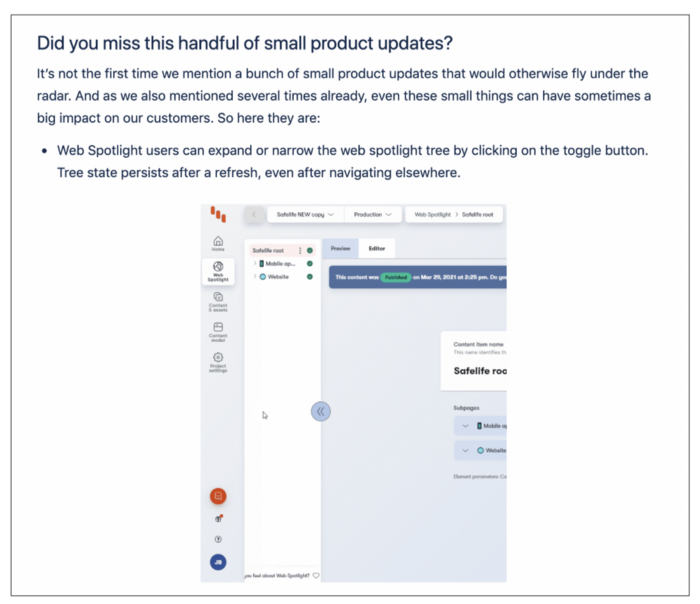 Another example of product update — this time small improvements (with GIF examples)
The last department that provides an update in the weekly newsletter is our Customer Success and they usually contribute by sharing the success story of one of our customers. Was there a launch of a highly anticipated project last week? Did some of our customers share feedback that we want to share with others? Did some of our customers decide to expand their product use and content operations because they like the product so much? All these are great examples of news that the Customer Success department can share with the rest of the company.
Once, we're finished with department updates, we conclude the weekly prophet with an update on our MRR/ARR goals. Every week all employees can see how we're able to grow the business and how we're progressing towards the fiscal year's goals.
While it could seem that the structure of the weekly prophet is set in stone, it's far from the truth. If we have other interesting updates (not specific to a department) that we want to share with the division, the weekly prophet is a great channel for that. You can, like us, use it to share information about the upcoming release party, finished personas research, to inform about new hires, or just celebrate passing some important milestone. Feel free to shape it as you see fit — the important part is actually passing the information, not the form itself.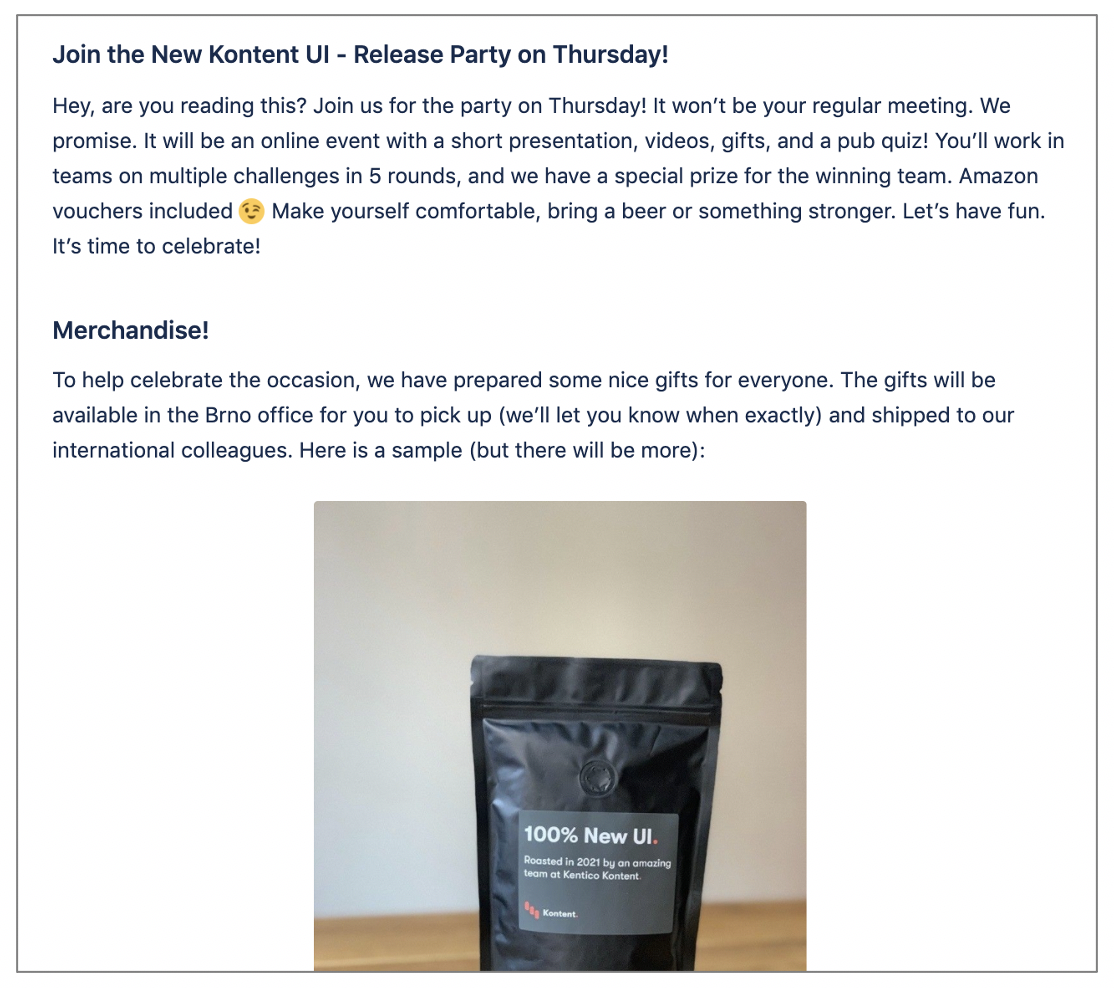 We used our weekly newsletter to announce a release party…
… and also to promote a quiz with prizes about our user personas
To conclude, the weekly prophet has become an essential piece of our internal communication. No matter what time of the year, no matter whether there are bank holidays — on Tuesday afternoon the newsletter goes to everyone in our company. And every week you can see people commenting on the news, asking more questions, or getting back to you with some follow-up topics. Considering it takes just 20 minutes each week to put it together (per department), it is without question time well spent.
Edit: Before I was able to finish the article, our Weekly Prophet evolved a bit. With the new quarter we now start with the MRR update, we have replaced the section Term of the week with a new Improvement of the week and we have also added a section where we celebrate our successes. I am writing this to show you that you can shape your weekly update exactly to your current needs as I mentioned in the article.
Author
Martin Michalík
VP Product