Kentico Xperience is an established successful product that focuses on big clients. As it is fast-growing, we are now modernizing it. To complement our collaborative group of departments—Sales, Customer Success, Consulting, and Product, we are now looking for a fifth member to join.
What will you do
?
You will combine great technical knowledge of the product, the human touch, and a business perspective. While Salespeople establish a relationship with the customer and guide them through the purchasing process, your job will be to answer technical questions. You will come up with a solution, not a reason why this or that is not possible.
Type of employment:

Full time

Start Date:

Straightaway

Language:

English C1
You will talk to the customer and understand what they want, what they need, and also what they are able to handle. Based on this, you will identify and explain why Xperience is the best solution for them technology-wise, in what ways it will bring them value, or how they can successfully integrate our product with the existing solution. You will find innovative ways to help the customer succeed, as well as creating a technical proof of concept.
In addition, you'll get the opportunity to create customized demos for key clients.
With all this, you can't do without presentation skills and a healthy dose of curiosity. Maybe thanks to your expert help, the client will finally decide on our product.
With whom will you work
?
You will help the Sales prepare materials and an environment for customers to be successful. You will also help them answer clients' technical questions, describe solutions to specific technical needs and provide examples of the product use.
Together with Product Marketing and a colleague from Sales Enablement, you will equip your colleagues from the Sales with the necessary knowledge and bullet-proof arguments.
Sometimes you will give a hand to the teams that work with existing customers, especially Support and Customer Success.
What will you enjoy
?
There are a lot of interesting challenges ahead of us in the near future, and you can be part of it. For example, we are selling our new product, Xperience by Kentico, and onboarding our customers to the SaaS solution. You will get the opportunity to lead partners and clients to be able to make the best use of its potential.
And because EMEA is a very diverse environment, you won't be bored. Every customer is unique, whether in terms of technical maturity, needs, and goals, or cultural background.
Together with the Kentico Xperience division, you will grow technically and professionally. You will have a great deal of freedom and opportunity in this role.
Is it you
?
You might already work as a Pre-Sales Engineer in an agency that uses Kentico Xperience, and you want to move into a more creative role with a business dimension. Or you no longer enjoy working for our competitors and feel that Xperience offers more. You are able to build a relationship with customers and build trust.
You know what Kentico Xperience can offer
You are proficient with the technologies we use (ASP.NET, MVC, .NET CORE, C #, MS SQL, Javascript, HTML, CSS)
You use tools like Git or Visual Studio
You are comfortable with the MS Azure
You are empathetic and able to ask questions and listen
You are assertive, and doing presentations is a non-issue
You are confident in English (C1 level)
When we say "multitasking", you don't break out in a cold sweat
Do you think we're the right fit for you? Contact us, and we can meet in our offices in the center of Brno, or online. At the interview, you will have the chance to meet the members of the team. And if it works out for both sides, we'd like you to join us full- or part-time. Remotely? No problem!
Wanna know more about this or other job opportunities? Find out on our blog!
Send us your CV.
At the interview, you will meet:
Tomáš Vykydal
VP Customer Success
Do you know anyone who fits the bill for this position?
Let us know!
Our favorite benefits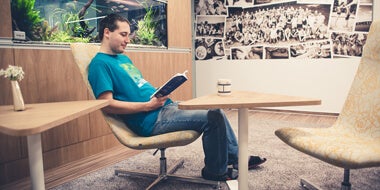 Innovation Time
You get to plan one-fifth of your work time to do the things you want to focus on – projects or further education.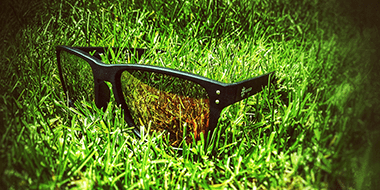 Unlimited vacation
Everyone works better well-rested. Therefore, relax properly for 5 weeks – regardless of whether you work part-time or full-time. If you miss an extra day, you can apply for another holiday.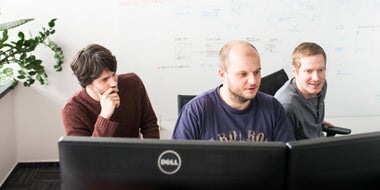 Training and Certifications
You can have free professional specializations and/or get a Cambridge English Certificate.